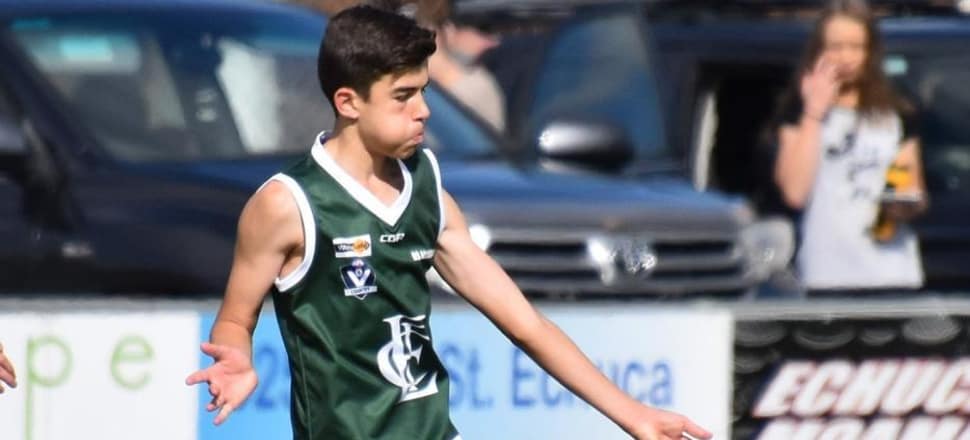 5370537724001
Netball
U15s — Echuca 57 def. Benalla 36
The first quarter saw good movement in the goals and through the centre.
In the second quarter Benalla stepped up with some good defence and intercepts.
Pressure was increased on the centre pass with Echuca turning the screw.
Half time saw Benalla leading by two with Echuca having lost a centre.
The third quarter saw a solid start from Echuca, who again applied pressure on the centre pass.
Great work in the goals from Clare and Chloe provided a 10-goal lead early in the quarter.
Fantastic effort from Echuca applying pressure across the court saw the team head into the last quarter with a 13-goal lead.
The final quarter continued with a solid performance from Echuca.
Bests: Jacalyn Green, Chloe Stone, Jayde Evans.
U17s — Echuca 53 def. Benalla 31
A comfortable 53-31 win on the road at Benalla at the end of the day, although not without its challenges.
The girls jumped out to a 10-goal lead in the first term, and consolidated that in the second to lead by 14 at half-time.
The third brought a real test; Echuca was outscored by three, which resulted in some changes, and objectives, for the last.
The girls responded well, powering home.
Lara Judd played bravely and really backed herself in defence, resulting in some outstanding intercepts.
Meg Eishold was a steadying influence with her strong defensive coverage through the mid court, and her relentless offensive drive, while Jenna Pellegrino was again named in Echuca's best, reward for her consistancy.
Bests: Lara Judd, Mia Gregor, Jenna Pellegrino.
B Reserve — Echuca 62 def. Benalla 27
It was a competitive start for B Reserve with the teams going goal for goal.
The second quarter was where Echuca found their feet, with an outstanding performance from Alenka Hubaceck as she shot goals like an absolute star and moved like liquid through the ring.
Strong leads onto the ball from Kelly Sutton saw the flow of the game continue at a cracking pace.
Maggie Stewart put her body on the line channeling her inner footy skills.
As the game went on and motivation began to decrease Anna Palma increased the talk and lifted the spirits, allowing the girls to remain strong through the last two quarters.
Some late injuries saw Shelby Pridham show her versatility and play three positions.
In the end the girls came away with a comfortable win and appeared to enjoy themselves.
Bests: Kelly Sutton, Alenka Hubacek, Shelby Pridham.
B Grade — Echuca 66 def. Benalla 31
Lining up to start the game, Kylie Walker looked positively statuesque compared to her centre opponent.
Good combining in the ring by Drysie and Trinity allowed Echuca to get off to a great start.
Strong pressure defensively and down the court, along with accurate shooting, resulted in Echuca leading 15 to nine at the first break.
The second quarter started with tight defensive pressure in the ring by Marnie and Tina, forcing some errors by Benalla and turnovers to Echuca.
Great use of the ring by Kylie and Lucy swinging the ball and waiting patiently for the goalies to get position allowed Echuca to consolidate the lead to 31 to 16.
A couple of changes in the line-up in the third quarter saw Echuca come out firing.
Bel Johnson applied good defensive pressure at the centre pass and created options in attack.
Great shooting and feeding into the ring by Kylie and Lucy, who were swinging the ball like it was a yo-yo.
Pumped up by awesome cheering and support from Alenka and Span on the bench, Echuca cruised to a win.
Bests: Kylie Walker, Annabel Johnson, Tina Rankin.
Football
Youth Girls — Echuca 7.3 (45) def. Benalla 5.8 (38)
Another close game for the Youth Girls against the home side Benalla, with Echuca enjoying a keenly fought contest, with the key playmakers running, kicking and marking with precision.
There was excellent pressure from the Echuca backline led by Chloe Schmedje, who was very dependable in the last line of defence, ably backed up by Zali Bover, Breanna Kaiser and Lacey Rankin.
Charlotte McGillivray and Rewa O'Brien played with a lot of strength, rebounding well from the backline.
In the forward lines Livvy Taranto lifted with some excellent work under pressure, while Shea Oliver and Bec Huisman provided plenty of run to leading full forward Nikita Meloury, who ended up with four goals.
There was much improved work across the centre line with Ash Kelly and Keely Mitsch working hard in the packs.
The team efforts by all to clear from the packs to the running leads downfield were tireless, against a determined opponent, who were determined to cover our leads.
A strong finish by Echuca was enough to take the points.
U12s — Echuca Green
Echuca Green played Kyabram at home on Sunday afternoon.
Echuca Green put in a solid performance with captain Cody Mann leading the way taking a great contested mark and kicking a goal.
Ky Henson and Jed Dargan were everywhere picking up heaps of possessions and kicking two goals each.
Connor Armstrong dominated the centre square with his contested possessions bringing his teammates into the game.
Tighe Cole provided options for the switch on the wing with a solid game.
Once again Jack Morley was a rock across the half-back line with his rebound football.
Jagger Senior and Liam Gronow were lively up forward creating scoring opportunities with their defensive pressure.
Echuca Green always seemed to be in control of the game but inaccurate kicking for goal kept Kyabram in touch.
Echuca Green finally ran out convincing winners and are getting better and better each week.
Echuca Bombers
In far cooler conditions, the U12 Echuca Bombers took to Victoria Park on Friday night led by their captain, Olly Bray.
The Rochester Tigers were marginally bigger across the ground and opened their game with some favourable moves forward, resulting in a couple of early team goals.
The game opened up to be a genuine tussle with some fine passages of play from both outfits.
Archer Golding was strong around the packs gathering numerous clearances and providing his running players with time and space.
Stella Fraser continued to impress with excellent attack on the ball and a galvanizing 'never say die' attitude.
Lexi Gregor drove the ball forward with great vigour, providing the forwards with a number of scoring opportunities.
In the third quarter, Will Halloran used his brute strength to break through a couple of tackles resulting in a team-lifting six-pointer.
Coach Shannon Cronin, emphasised the importance of shepherding and working for each other, and the crucial need to get in first for the ball.
He praised his players for their grit and determination in laying some heavy tackles, for which Max Trewhella's efforts were highlighted.
Furthermore, Cronin acknowledged the strong marks featured in the game of Toby Coutts, and as the legs tired he implored his players to maintain affirming talk around the ground.
At the final siren, the Echuca Bombers walked away with many positives including a team mentality, achieved by completing the one per centers, such as shepherding, tackling and knocking the ball on.
This Friday night we look forward to a road trip to Girgarre.
Awards: Toby Coutts, Lexi Gregor, Archer Golding, Max Trewhella and Stella Fraser.
Echuca Murray Bombers
Our first game at the home ground, Vic Park, and with a 7.30pm start the rain had just about stopped.
Echuca Murray Bombers had been drawn with Echuca United Blue for the fourth round in the Goulburn Campaspe junior football league.
Both teams were short on numbers and so it was 17 players apiece.
Echuca Murray Bombers started with the wind to their advantage. It was a great start, with Dylan Moore playing with gusto and movement, helping the team create early pressure.
The first goal quickly eventuated, Liam Stephens curled it through from left to right.
Dylan Moore, following up on his great start, was rewarded with his first goal of the season.
Captain Solomon Fleming, showing a presence on the wing, partnered well with Patrick Caffrey, who started to dominate.
The second term started with Solomon Fleming putting in a great bump, protecting Jaxon McMinn who followed up with a well placed kick to Bertie Cunningham. The ball then ended up with Paddy Kennedy who had plenty of space. Good control from the start and Tevo thumped a goal against a fierce wind.
River Stevens, always looking for options, found Tevo who scored again.
With a minute to go, Bertie Cunningham snapped a goal.
In the third, the coaches asked for the players to start deep.
The tactic worked well with a goal to Jaxon McMinn.
Oakley Tarrant attacked well and once Edward Cunningham had found a deeper position at full forward, two more goals came in succession.
Using the corridor in the fourth, super runs of play materialised.
Goals to Jack Skerritt and Luke Ollerman sealed the night.
Honourable mentions to Riley Carr and Allan Harvey whose fitness is getting a lot stronger.
Awards: Liam Stephens, Jaxon McMinn, Oakley Tarrant.
With inter-league next week, good luck to all those players selected.
Training this Wednesday as normal.
U14s — Echuca Green 21.21 (147) def. Notre Maroon 1.0 (6)
At Vic Park on Sunday morning it took Echuca Green five behinds in the first quarter to sort out the wind and other conditions before the goals began.
Corbin kicked the first goal and kept going all game.
In only the fifth game of the season the runs of play are coming together and are great to watch, beginning with Dan Hawker in the backline, to Hayden Quincey, on to Matt Gazelle, with a great mark by Harry Wetton, who kicked it into the goal square where Corbin Anderson snapped over his shoulder for another of his goals.
As the game developed, the boys increased their tackling.
Dominating the goals was Corbin Anderson with nine.
Other contributers were Matt Gazelle with three, two each to Hugh Byrne, Dan Hawker and Sam Lowndes, and singles to Gus Toll, Harry Wetton and Brodie Wilson.
Awards: Matt Gazelle, Alex Hawker, Tyler Greentree, Lachie Watson, Taj Elliott and Ryan Mann.
Echuca Bombers 8.8 (56) lost to Shepparton United Blue 10.10 (70)
Round 5 saw Echuca Bombers take on the ladder leaders at Deakin Reserve.
Shepp United started strongly and were rewarded for being first to the footy in the opening term, keeping the Bombers scoreless.
In the second quarter the players came out with something to prove and started with Elijah Bruns kicking the first score for Echuca.
Jake Dempster lead the team as game day captain through the next three quarters, taking some strong marks.
After being five goals down at half time, Bomber Anthony Huismann was able to dominate the forward line, adding to the score along with Johnston McCann and Elijah Bruns.
The defence was able to hold Shepp United to only a minor score to draw the game at the third break.
Brothers Rory and Archer Carlile contributed all game, and Joel Priestley was rewarded with a goal before the final siren.
After a fantastic comeback, Echuca had come up just short.
Awards: Joel Priestley, Anthony Huismann, Rory Carlile, Jake Dempster, Elijah Bruns.
Echuca Murray Bombers
Echuca Murray Bombers played Shepp Notre Gold at Emmaus Oval in windy conditions on Sunday.
Echuca kicked with the wind in the first quarter and were on top early. First quarter goals to Sam Edgar, Tighe O'Brien and Jet Westblade gave Echuca a handy lead.
In the second term, defenders Chhay Williams, Clayton Lindberg and Orlando Gonzales stood firm while a late goal to Lewis Rolfe into the wind was very handy.
In the second half, Nic Stone and Logan Orr were good across half back and Jasper Quincey was on top in the ruck.
Jace Tonkin's run and carry was hurting the opposition and goals to Fletcher Ball and Lachie Donchi saw Echuca run out comfortable winners.
Awards: Nic Stone, Jace Tonkin, Jasper Quincey, Luke Stone, Orlando Gonzales, Chhay Williams.
U16 — Echuca Green 20.10 (130) def. Shepparton Swans White 6.3 (39)
Two first-quarter goals from Kynan Sharpe-Long in a six-goal first term saw Echuca grab a handy lead into the first break.
Jacob Kirk attacked the packs up forward, bringing the ball to ground for the small forwards to scoop up.
The second quarter saw Echuca pour on a further eight goals, this time James Curtin and Sharpe-Long leading the way with two.
Jack Evans, Noah Long and AJ Mills were dominating through the middle, while Shane Scragg, Tom Watson, Maddex Fimmel, Chay Hancock and Miles Curtin repelled all attempts Shepparton made to take the ball into their forward 50.
The third quarter proved a tighter contest, with both teams only adding two majors for the term.
The move of Jonathan Morphett and Fimmel into the centre saw some great passages of play from Echuca.
Tanner Smith and Jack Jansen were again a powerful force in the ruck and forward line.
Echuca continued their spread and running in the final term with Ryan Campbell, Jansen and Joshua Ball piling on a flurry of goals.
Goals: K.Sharpe-Long 6, J.Curtin 3, R.Campbell 2, J.Evans 2, J.Jansen 2, A.Mills 2, J.Ball 1, J.Morphett 1, T.Smith 1.
Echuca Bombers 8.9 (57) def. Moama Magpies 8.4 (52)
Echuca Bombers travelled over the river to take on Moama Magpies.
The first quarter began with Echuca kicking with a strong breeze, unfortunately the young Bombers were unable to take advantage.
Fraser Brooks kicked his first goal midway through the term, Riley Smith added a second late in the quarter.
Our defense, consisting of Jordie Preistly, Harper Molluso, William MacKenzie, Nathan Huismann and Josh Beveridge, were working well together, enabling the Bombers to withstand multiple entries from Moama with the wind advantage in the second term.
All four Rileys had great games, Rileys Smith and Milburn were strong and hard at the ball across the ground, Riley Power added great pressure, tackling hard, and Rylea Jones set up many goals with his forward entries and took some telling marks.
Fraser Brooks added two more goals for the Bombers in the second.
Jo Guiney was again in everything, lifting the team in the third term.
Will Stuart put his stamp on the game with great body work up forward and got his reward with two goals.
Brooksy accumulated his fourth goal for the game, while Oscar Miller and Andrew Quincey were keeping their direct opponents quiet and stopping Moama's forward push well.
Seb Monahan kicked a last-minute goal to give the young Bombers a healthy 20-point lead into the last.
The message from coach Brendan Hogan was fight and fight hard in every contest.
The Bombers heard the message and tackled with ferocity, Gilbert Labinas and Jacob Russell leading the charge down back, repelling the forward pushes from Moama.
The Magpies had chances late, but the young Bombers held on against the wind to register a five-point victory to take into the bye this weekend.
Goals: F. Brooks 4, W. Stewart 2, R. Smith 1, S. Monahan 1.
Best: R. Smith, R. Milburn, J. Guiney, F. Brooks, S Williams, R. Power.