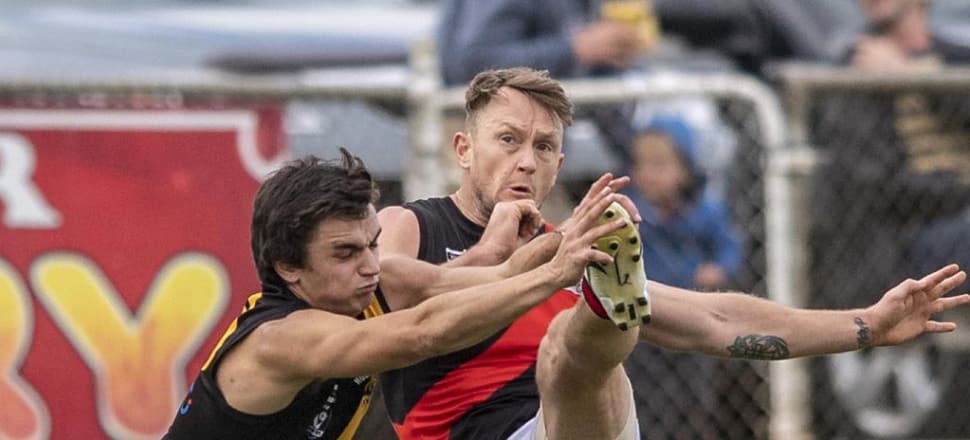 5370537724001
THE Kyabram Bombers are just one win away from a 50 successive winning games milestone after running over Rochester on Sunday.
A big crowd witnessed the home side hang in for three quarters and even outplay the Bombers for a lengthy period in the second term. But when the game was there to be won the visitors rose to the challenge yet again, kicking eight last-quarter goals to Rochester's solitary behind.
The final winning margin of 79 points suggested it was a one-sided contested to those who weren't at the ground. But it was far from that.
Despite Kayne Pettifer kicking the first three goals of the game Rochester was only four goals off the pace at half-time and five goals down at three-quarter time.
But again Kyabram was able to take full control, which it did in the last quarter, to more than double its three-quarter time margin by the final siren.
The young Rochester side certainly had a crack but again the bottom line was that it couldn't sustain its best brand of football long enough to bring down the Kyabram machine.
Smaller running players in Liam Ogden, Mick Mattingly and Bailey Bell were able to ignite the Kyabram machine when the Bombers were being seriously challenged.
The ultra consistent Ogden capped another inspiring game with three telling goals while Mattingly through the midfield was one of the few Kyabram players consistent over the entire course of the game — and again made the most of his possessions.
Classy Jordan Williams, back from a holiday in America, didn't have the impact he normally does, which was a bonus for Rochy because he is a key player in this Kyabram side.
Rochester had the better stats in pack clearances, particularly from the centre ball-ups, but Kyabram's defence again stood firm with Lachie Smith, Tom Holman, Jason Morgan and Liam Barrett showing the way.
Morgan also spent valuable time in attack for the Bombers.
Brad Mangan was the best of the Kyabram forwards on the day and exerted his strength to take some strong marks and kick goals when the Bombers needed them. He finished with four majors.
Leading goalkicker Pettifer got the job done again with four goals, the first three to kick-start the Bombers.
Big man Zac Norris worked hard around the ground and below his knees to be a valuable contributor.
Young flanker Cade Mueller grew in stature as the game wore on to make his presence felt, while Josh Pell also put in.
Utility star Luke Morris limped from the ground late with a leg injury and is in danger of missing this week.
Coach Paul Newman was particularly happy with Kyabram's first and last quarters.
''We clicked the switch on when we had to,'' said Newman.
Axel Childs, who had work commitments on Sunday, will be available for this Saturday's game when Kyabram hosts a surging Mansfield.
My best: Liam Ogden, Mick Mattingly, Lachie Smith, Jason Morgan, Brad Mangan, Bailey Bell, Tom Holman, Liam Barrett.
■ KYABRAM reserves had a big win but, as in the senior game, the final scores weren't an accurate indication of how the game unfolded.
Rochester got its share of the ball but just couldn't apply any scoreboard pressure to the Bombers.
Kyabram's onballers led by mobile Connor Cowley, ruckman Kyle Fitzgerald and Coby McCarthy were in everything and the defence, led by Locky Dillon and Callum Herrick, was tight and aggressive all game.
Skipper Tom Curnow, as usual, did a power of work on a wing and Zane O'Donnell worked hard up forward to ensure Kyabram's supremacy.
■ COMING off their first loss for the season in the previous round, Kyabram thirds were able to shake off a persistent Rochester after half-time to register a big win.
Classy hard running onballers in Cooper Vick, Daniel Lawson, Billy McLay and Mitch Gugliotti in particular were dominant players while Ben Turpin was very active in the forward half and finished with three goals.
Kyabram coach Glenn Hart was happy how his side ran and shared the ball.
''We shared it (the ball) around particularly well and that was the really pleasing part of our game as it brought a lot of our players into the game. I was really happy with our effort,'' Hart said.