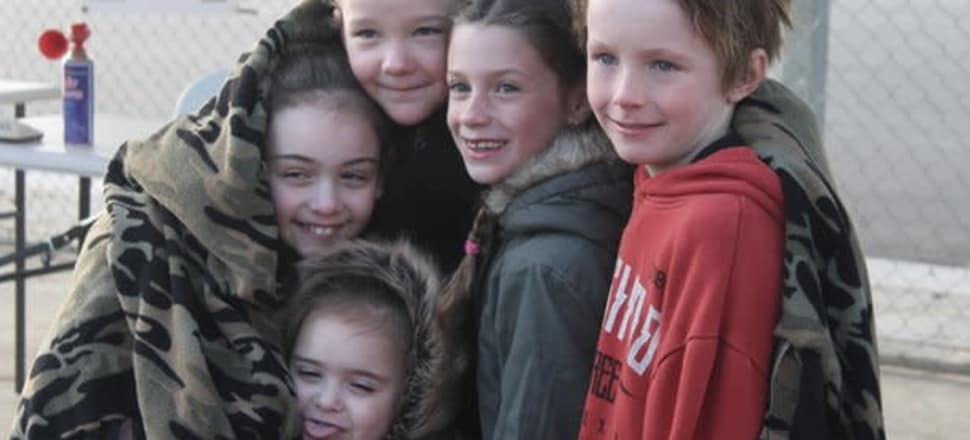 5370537724001
Seymour
Under-9 Green
Our attack players were unbeatable, and displayed outstanding team work throughout the game this week.
Grace made some great passes, while Isabel and Evie worked well in the goal circle with their passes and some clever shots.
Marcus displayed his versatility in centre and defence this week in true team spirit. While Lilly had some cold finger injuries, she also had a go at playing in the wings, and enjoyed a bigger run of the court.
Lucy's defensive skills shone again as she intercepted many of the passes going into the opponents' goal circle.
Tayla stepped outside her comfort zone with a stint in GK this week, and got to practise her defending skills.
Overall after a foggy start and a cold morning, The under-9s played their best game as a team yet and their team spirit and morale was fantastic to see.
Under-11
Seymour's defence continues to be their strength. With Georgia playing in goal defence and Tilly in goal keeper, Wandong found scoring difficult and did not score at all in the second half.
Tilly was ferocious, anticipating well and intercepting continuously. Georgia combined her height, speed and ball sense to great effect and she was constantly moving.
Chloe and Tahlia made a great forward combination. Both girls added to the score through being in the right position for passes and shooting accurately. They were ably supplied by Evelyn in wing attack and Madi in wing defence who moved the ball swiftly down the court.
Gabby was superb in centre, chasing down every ball and seeming to be everywhere at once. She swooped on every loose ball and would appear out of nowhere to intercept.
Seymour Red continues to improve and all of the girls played with their usual good spirit and teamwork.
Under-11 Purple
Seymour Purple started off well but with the Kilmore weather being so cold it was just too much for them, and St Pats took home the win.
Seymour kept on trying, braving the cold. Even though things weren't going to plan they showed great sportsmanship.
Well done Seymour Purple, really proud of you all. Keep up the good work
Under-13 Yellow
We knew this match against Navy, who currently sit in third place on the ladder, was going to be a strong and competitive game but our team, which has been improving all season, were up for it.
We hit the court and had some great passages of play but found it hard to get on top of Kilmore early who stretched it out by nine. In the second quarter, we were edging back with a five to two split.
There was some great flowing play led by our Energizer bunny, centre player Abbie and excellent consistent defence from Tiffany, Ruby and Mackenzie, who was knocked down in the first quarter but stayed on the court to strengthen our back court.
In the third quarter Kayla, playing a fantastic game with excellent passing and strong court coverage, helped set up the attack. Lexie and Mollie had a fabulous third quarter and through some strong movements and excellent leading did a great job to win the quarter 3-2.
In the fourth quarter, it was tight. Elijah stepped on to the court in defence and put in some great passes resulting in points, however, Kilmore on their home court held steady to take the match 21-8.
Under-16 Black
The first quarter revealed how intense and fast paced the game was going to be with the opposition sitting second on the ladder, going goal for goal in the first with the scores level.
Second quarter had Broadford kick it up a notch sending the defence into overdrive.
Brandy played beautiful keeping tight on her opponents, forcing the play elsewhere. Jack played an impressive game reading the play and grabbing those intercepts to regain possession of the ball.
Hayley was able to get those passes out of their goal third, with every week strengthening her confidence in the game.
It was a competitive game keeping the reins short in the third, minimising the opposition's chances of scoring as the ball worked its way down the court where Tenisha and Lucy were able to control the passages of play through the centre court.
Lily showed great attacking manoeuvres keeping her opponent on her toes as a tussle of height worked Polly hard in the goal circle. Forced turnovers in the goal ring saw Seymour unable to convert the goals going down at the final sound of the horn 15 – 26.
St Mary's
Fine weather conditions greeted the kids on Sunday with the Saints hosting Seymour at Kings Park.
The under-10 footballers had a great day out and by all accounts both teams had a good time with many kicks and a bit of fun.
The under-12s met a determined Seymour Lions in a nail-biting match that could have gone either way in the last few minutes. Well done to both sides who gave it their best and entertained the crowd in the process.
Under-14 football
Well done to all the kids, with a brave Seymour.
The Saints stuck to team rules, communicated, and did the one percenters when the ball came their way.
Jack Davey did as he pleased, casually kicking eight goals before being rested down back. Nic Quigg then ''rested'' at full forward and bagged five in a quarter.
Jonty Mann was best on ground. He hunted the packs, had countless centre clearances, and kicked a goal.
The Smith boys were dominant around the ground. Brothers, Beau and Lincoln rebounded every Seymour attack, and Hugh Smith showed he can go forward and be a presence.
Other notable contributors were Will Weeks and Regan Gardner. Will showed poise and balance while Regan showed brawn and determination.
Our best wishes go out to Tyler Ryan. Looks like a torn ligament and possibly the season. One of our quiet achievers that puts in every week. A couple of handy byes may help — so rest up mate.
Tabilk
Under-14 football
With a lot of the playing team out due to injury, illness and holidays (mum and dad at a swim meet, the green lantern returned to the runway, Cliff Young decided to go running again, our doc and nurse on holidays), we only played with 16 a side and a light coaching staff, with young gun Tom Mason stepping up from the under-12s.
We got off to a great start with Connor, Angus, Will O'B, Harry W, Montanna S, Harry P and Sharmi in the backline making it easier for the forwards and on-balers to kick three unanswered goals. Jimmy J. and Ed P. kicked their first for the season giving us another two of the team now on the board.
Going into the second quarter the players were keen to keep kicking goals with Kane C kicking one of his three for the day and having numerous attempts at many more.
Mitch C got on the board with another major and played in and around the packs on a good day to play alternative positions.
The second half opened up with hard runs from George, Rielly, James and Irish, and we piled on four goals and ran right away with the game. It's great to see how far Ed and Irish have developed their skills since their first game this season against Alexandra. Keep going guys, you are doing a fantastic job.
Well done to all the playing group, the past four weeks have been great, let's stick together and keep working hard going into the last home and away games. Two games clear now, let's not drop the ball and push hard.
Final score: Tabilk 9.13 to Alex 0.2.
Thanks to sponsors:
Royal Mail Best on Ground: James Auld.
Auld Family Match Award: Connor Peterson.
Coach Stop Have a Go Award: Kane Chapman.
Goals: K. Chapman 3, R. Fox-Old 2, J. Jackson 1, E. Perry 1, M. Cole 1, G. Chamouras 1.
Special mention and thanks to parents who helped out — Pete, Kylie and Courtney.
Under-16
In beautiful conditions at Alexandra the boys started off well. Unfortunately some unlucky goal kicking saw them hit the post five times — the 3.6 first quarter could have been a lot better.
The good form continued on for the rest of the first half. Under-14 ring-in Angus Murray had a great first half slotting three goals, finishing up with five for the day. Other multiple goal kickers were Tom Barnes with three and Jamison Black and Josh Robertson with two each.
It was great to see Scotty Mc back on the ground, he was solid as usual in the backline and in the ruck and we wish him well with his second lot of surgery on his finger. Corey and Jake Chapman were again solid across the ground laying some great tackles, Jake topped off a great controlled game with a goal in the fourth quarter.
Nick Smidt had some fantastic bursts of speed down the wing, kicking the ball into the forward line on a number of occasions.
Their form dropped off a little in the second half but overall another great team effort from the boys and a good win for the team.
Thanks to the Alexandra boys for having a run each quarter to allow us to play 18 a side.
Awards: BoxGrove Premium Lucerne Award — Corey Chapman.
Nagambie Bakery Award — Scott McMaster.
Team Managers Award — Jamison Black.
Under-11s netball
Tabilk put in a good first quarter, leading at quarter time. We lost momentum then but fought to stay in the game. Well done to Georgie who gave 100 per cent, playing an awesome game and winning the award.
Under-13
All the things we've been working on this season are starting to click together.
The game against the Rebels was a fast one which caused a few steps and decision-making errors, but we are extremely happy with the win and improvements the girls have made this season.
Stand outs on Sunday were Olivia, Abbey, Cadence and Tahlia, with the Nagambie outdoors award going to Lara for her quick transition from an attacking player to a defensive player.
Under-15
The guys got off to a flying start and maintained their lead for the entire game.
Lexi and Sarah combined beautifully in goals in the first half, Shae and Amelia were great in defence, and Ferg, Macey and Bree worked tirelessly in the mid court.
Half-time saw Darby and Tay come in to the mid court, and Shae and Lexi switch ends which proved to be too good on the day.
The Nagambie Lakes Leisure Park award went to Bree for her tireless effort in the mid court all game.