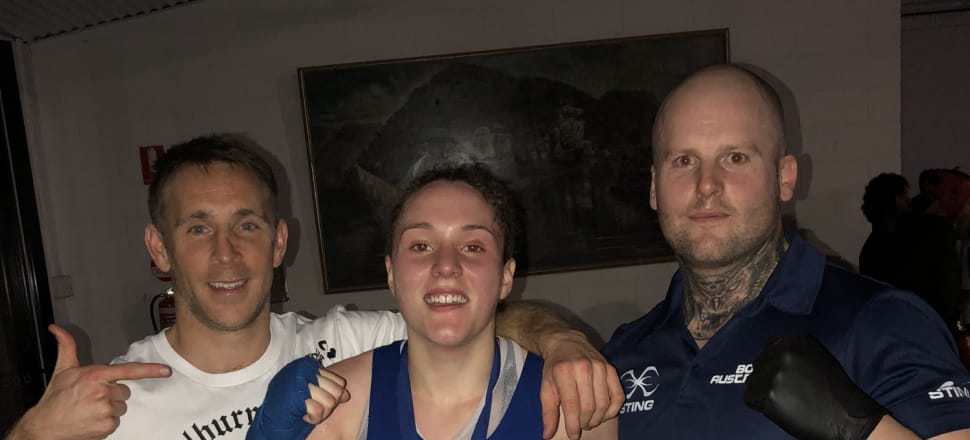 5370537724001
ELLIE Fry made it six in a row in Darwin against Megan McAuliffe at featherweight.
McAuliffe, the hometown girl, was the more experienced of the two and eight years older than Ellie, who is still a youth-aged boxer at 17.
Ellie won the first two rounds by scoring the cleaner, more effective blows against her opponent, who had good footwork and combinations off the back foot.
With the instructions from her corner followed superbly by the teenager, the third round was the most impressive of the lot.
Ellie would end up scoring three standing eight counts in the round — the referee would then wave the bout off declaring Ellie Fry winner by round-three TKO.
"We knew this girl was going to be a neat little fighter, a few things we focused on ended out being very valuable in this fight," trainer Zedda Harrington said.
Some of Ellie's family made a surprise trip and met her at the airport.
"It's an expensive trip but that was priceless," Harrington said.
Harrington said he has many friends and family living in Darwin so Fry, despite being the away girl from the Goulburn Valley, was getting more cheers from the crowd then anyone.
The bout was number 10 on the June 16 bill and was the most lively of the night.
''It was a really top bout that ended up being awarded fight of the night," Harrington said.
"We were so proud to do this for our friends and family and to show Darwin a really good fight, they loved it.''
Zedda is looking into getting Ellie matched in July or August in Melbourne or Tasmania.